Sharing Meaning, Wine, and Stories in the Finger Lakes
Once, an adverb in the English language that indicates the start to an epic tale, has a dual meaning to founder Antonio.
Once (pronounced OHN-say) means 'eleven' in Spanish and that happens to be the number of lakes that form the Finger Lakes region. For Antonio, who grew up in Mexico, he can't help but translate the word and decided to embrace the double-meaning when he named the tasting room. Our mission is linked to that word and that number. It's about storytelling, collaboration and bringing together like-minded and imaginative wineries to demonstrate the breadth, depth, and passion of our beautiful wine region. Inspired by similar concepts in Australia, Europe and America, Antonio envisioned a place where local stories, traditions and innovations would be shared through wine. The result is a tasting room where several of the region's finest wines could be sampled under the same roof in a relaxed, fun, thought-provoking setting.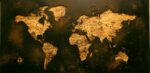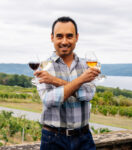 About Antonio
There's no other product that tells a story of a place, people and time like wine. Sharing these stories for other people to enjoy is what Antonio loves the most.
Originally from Mexico, Antonio's Spanish side of the family is the one to blame for his early obsession with wine.
After earning a degree in Chemical Engineering from Universidad Iberoamericana, Antonio moved to Australia where he earned a master's degree in Wine Business from the University of Adelaide. While Down Under, he worked with wineries big and small, including Pindarie and Dandelion Vineyards, in addition to starting his own wine importing company for Australian wines into Mexico. During his time in Adelaide, he fell in love with a lovely girl from the Finger Lakes (his now-wife, Meaghan). Antonio moved to America, settling in upstate New York. He earned his WSET Level 4 Diploma in Wine & Spirits while buying, selling, and leading wine education programs in the Northeast part of the country. And now he's eager to share his passion for and knowledge of wine with guests from all over the world at Once Finger Lakes.
Reserve Your Seat
For parties of 6 or more, we encourage booking ahead of time.