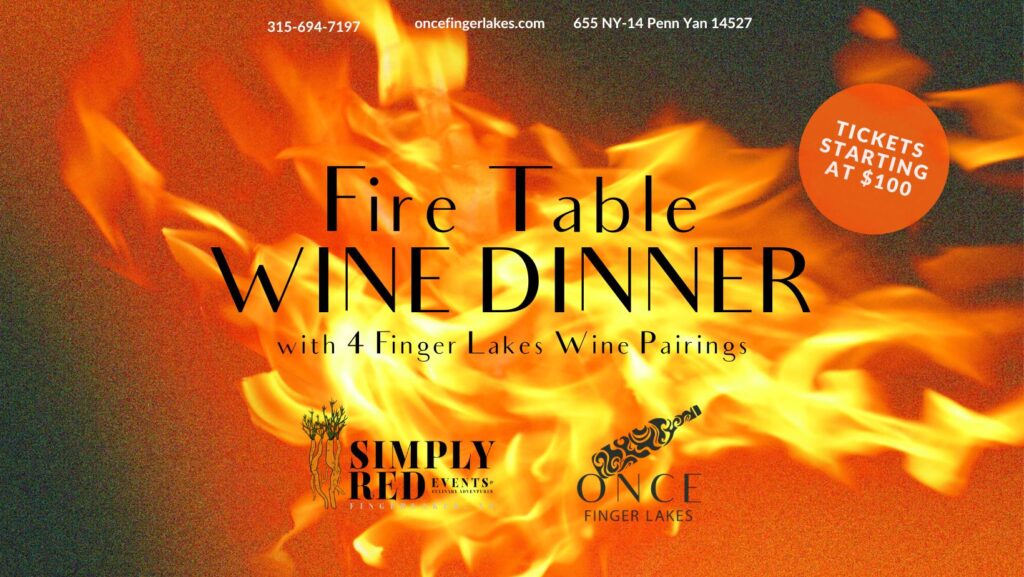 A Wine Pairing Dinner with Farm to Table Grilled Delights ~ A Finger Lakes Gustatory Experience
2023 Season Dates:
July 29 — Pork & Squash Dinner
October 6 — Korean BBQ Dinner (click for menu)
---
Join us for an unforgettable evening of indulgence and refined taste at our upcoming wine dinner. Chef Samantha Buyskes' new culinary concept, Farm to Fire, comes to ONCE for a 3-course wine dinner that will tantalize your taste buds with 4 sumptuous local wine pairings.
With a customizable wine pairing option, choose your own adventure–
Opt for the Silver Tier, featuring a curated selection of premium local wines, perfectly complementing each course. Or, for the connoisseurs seeking the ultimate indulgence, the Gold Tier offers a luxurious assortment of rare and exceptional Finger Lakes wines.
Choose silver for excellence, gold for perfection.
Tickets: Silver $100, Gold $140
Only 24 seats available, must be 21+.
Price includes Tax and Hospitality Fee.
Starts with Welcome Wine and Amuse Bouche at 6pm, First Course served at 6:30pm
Unforgettable moments await. Reserve your seats today.
Missing Chef Samantha's gourmet foods paired with some of the finest Finger Lakes wines? Try our signature Flights & Bites food and wine tasting experience where chef Samantha creates seasonal, farm to table gourmet bites.